Here are some of the food photos I took during my winter vacation in Los Angeles -- some weren't included because they were blurry or had bad lightning. And this doesn't nearly encompass all the food I ate!
These avocado rolls are from BJ's Brewery. They also serve thick crust pizza and pizookies (a large cookie warmed in a pan with ice cream on top). My favorite thing here is actually their roast beef dip -- delicious. The avocado rolls were better than the ones that I've had at the Cheesecake Factory, imho.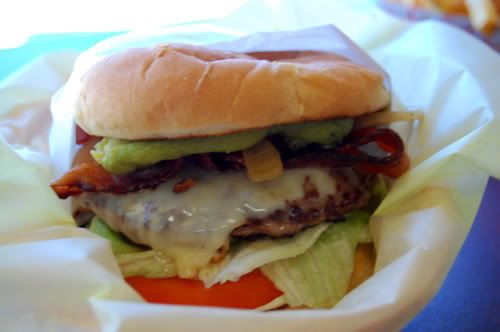 I can't remember what kind of burger this is because it wasn't actually mine. It had avocado in it, I know that much. And it was apparently delicious. From Fab's in the Valley.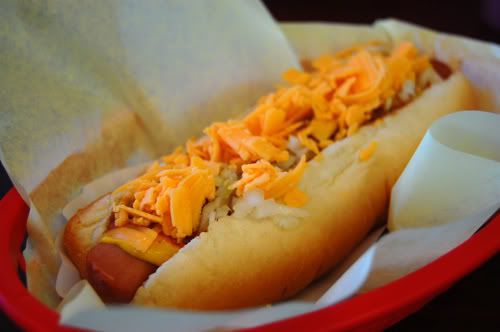 This is what I had from Fab's. A chili cheese hot dog with mustard and onions. Mmm.
A chocolate-dipped creampuff from Beard Papa's. It was in a mall.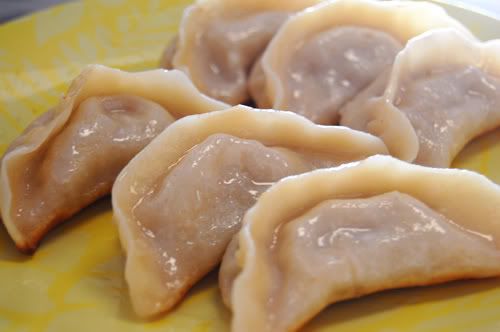 Pan-fried dumplings from Ho Ho Kitchen in El Monte. The owner and chef keep closing up places and opening new ones under different names. We keep finding them because their food is so good that everyone follows them around and passes along the information.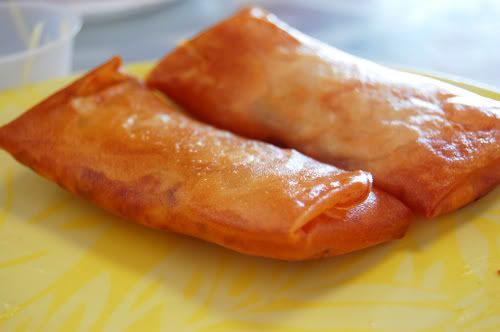 Again from Ho Ho Kitchen, which has the best Shanghainese food, even if it is a tiny hole in the wall. These eggrolls are the only kind I like -- filled mostly with veggies and fried to a perfect crisp.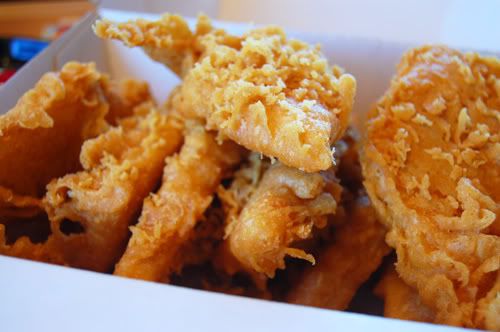 Fried fish from Long John Silver's, which is a fast food joint. We don't have them in Seattle. This 8-piece fish 'treasure chest' was just over $8 -- incredibly good price. If you've ever been to Ivar's, which is Seattle's 'fast food' seafood joint, you'll know that $8 will barely get you a 2-piece fish meal there.
This pastrami sandwich from Jerry's Deli was good, but overpriced. It was listed under "sky high sandwiches." Does that look sky high to you? Me either.
My mom made shrimp cocktail while I was home. Mmm.
My dad followed it up with T-bone steaks, seen here marinating. He's the best at it.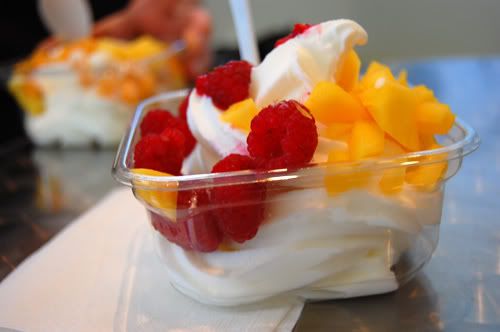 Here we've got frozen yogurt from Purenaked Yogurt -- it's sour in the style of Pinkberry, Red Mango, etc. I really love it. My toppings were raspberries and mango, but it was underripe. I should have gone with pineapple! You can see my friend Robbie's in the background ... she got pineapple and Captain Crunch on hers. :D
This delicious pizza is from Mulberry Street Pizza. It's the closest thing I've found to New York style pizza on the west coast. I'm just sad it's in LA and not Seattle (which apparently doesn't have any true NY-style pizzerias). The pizza was 22" around, which is huge, but this great perspective shot (taken by Robbie) makes it look even bigger. Some have asked what the difference is between NY-style pizza and regular pizza -- the answer is, it's all about the crust. It's very thin crust pizza that's
not
crunchy. The toppings are minimal (usually just plain cheese) because the thin crust doesn't support it, and because the ratio of cheese/sauce/crust is so perfect and delicious that it doesn't need anything more. The slices are usually very wide, so much so that people fold them in half to eat. Mulberry Street Pizza's pizza is very much like Ray's, which is a chain in NY. I'd consider it "fast food pizza." Other pizza places in NY, which are more like real restaurants (you couldn't just walk in and buy a slice), such as Pasty's or Lombardi's, use fresh mozzarella and bits of basil.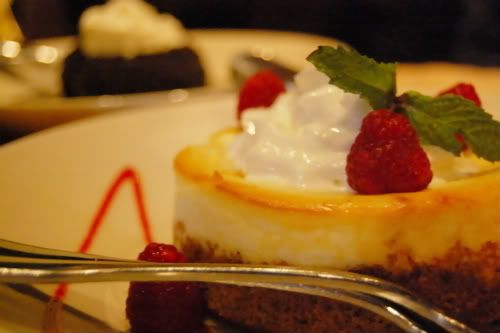 This is the cheesecake from Wood Ranch. But skip the cheesecake. The best thing Wood Ranch serves (even better than their steaks) is their mac & cheese. Really, really wonderful real cheese flavor.
That's it! I wish more of my food photos from the trip had turned out well. But rest assured that I had some good eats. The 7 pounds I gained attest to it. :P