Stand aside, Old Spaghetti Factory, we've discovered your secrets. Well, all right, they weren't really secrets to begin with. Nothing so mysterious about spaghetti with meat sauce or mizithra cheese and browned butter ... except for the availability of the
mizithra
, an unpasteurized cheese made from sheep's milk.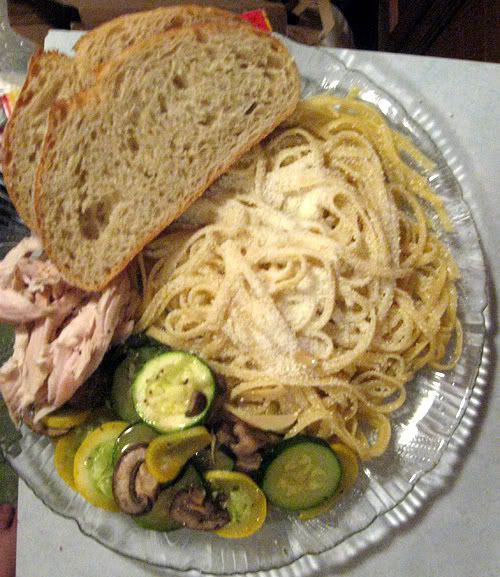 Too much of a good thing? Never. Trix prefers her pasta with all mizithra and browned butter, no meat sauce.
Trix and I have long been fans of OSF's spaghetti with browned butter and mizithra, a dish made even more desirable due to the fact that no one else, no restaurant or grocery store, seemed to know about mizithra cheese. That all changed the other week when I found a hunk of "mizythra" (no other brand label visible) at my local Fred Meyer. Trix found some at Ralph's.
Thus we set out to recreate our favorite OSF dish at home -- hers being pure mizithra and browned butter, and mine being half and half (the other half being meat sauce). I like having the tang of the tomato sauce cut into the buttery goodness when it gets to be too rich. I find that after having some of the tomato sauce, going back to the mizithra portion makes it taste as powerful as it did on the first bite. And the tomato sauce seems sweeter and heartier when I go back to it after eating the mizithra. Thus the two are true complements for me, each making the other even better.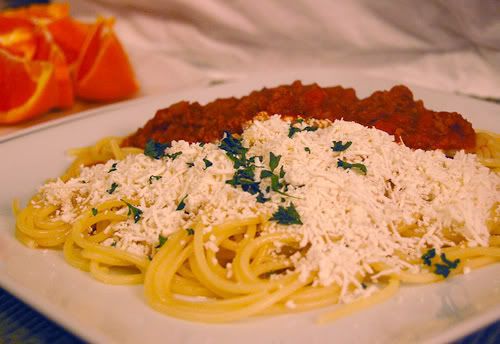 Half meat sauce, half browned butter and mizithra. 100% yummy.
The mizithra and browned butter part wasn't difficult to figure out; OSF doesn't do anything fancy. As far as we can tell,
they just toss some pasta with browned butter, then pile some grated mizithra on top and garnish with a bit of parsley
. The meat sauce was a little more challenging (but not much), because we have a favorite Bolognese sauce, but it's far thicker than OSF's version. Not that OSF's meat sauce is, frankly, anything special -- but a "saucier" meat sauce seemed more appropriately paired with the mizithra and browned butter to me. So I set about retooling the Bolognese sauce I usually use to make it the right consistency for what I wanted here. And I'm very happy to say that it came out wonderfully.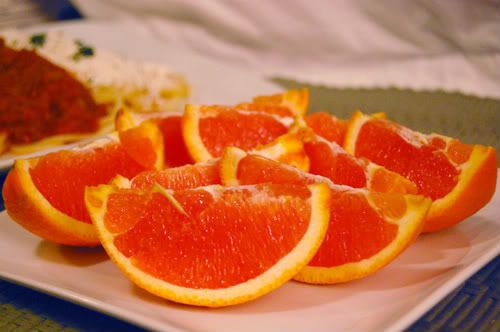 Dessert for me was this gorgeous orange. Your eyes do not deceive you, nor is the picture distorted. It was that orange in color, practically red. I believe the variety was Cara Cara.
Despite having to make two sauces, I never felt rushed. The meat sauce requires an hour of simmering to achieve the best results, so once that's going preparing the browned butter and mizithra is fast and easy.
Now that I know I can make this delicious meal at home, OSF will be seeing a lot less of me!
Spaghetti with Meat Sauce, and Browned Butter and Mizithra
Ingredients
your favorite brand of spaghetti (or other long pasta) - I like Trader Joe's brand, or Barilla
For the Meat Sauce
1/2 lb ground beef
1/2 onion, diced
1 6oz can tomato paste
1 1/2 cups water
4oz tomato sauce (the small cans in the stores are 8oz, so use half of one)
7-8oz diced tomato and green chiles (I used half of a 14.5oz can)
1 tsp oregano
1 tsp sugar
3/4 tsp basil
1/2 tsp salt
1/2 tsp marjoram
1/4 tsp rosemary
1 bay leaf
dash of garlic powder
For the Browned Butter and Mizithra
1/2 cup unsalted butter (1 stick)
4oz mizithra cheese, grated
salt to taste
minced parsley, to garnish (optional)
Method
Make the meat sauce. Start by browning the beef and onion in a medium saucepan. Drain.
Add the diced tomato and green chiles, tomato sauce, sugar, salt, and spices.
Mix the tomato paste with the water until it looks like a thick sauce. Add it to the mixture.
Heat everything until it's boiling, then reduce the heat, cover the saucepan, and leave it to simmer for an hour. You'll want to check on it occasionally and stir.
While that's going, melt the butter in a small saucepan. Simmer until the butter is amber in color. Don't stir -- the milk solids will darken and fall to the bottom of the pan.
Grate the mizithra and mince the parsley.
When the butter has sufficiently darkened, strain it into a small bowl using a strainer and some cheesecloth (to make sure none of the solids get through).
Time it so that you will be ready to top warm pasta with the meat sauce when it's ready. Heat a large pot of water to boiling, adding salt and oil if you desire. Prepare your pasta according to the package's directions. Usually al dente spaghetti will take between 7-9 minutes. Drain the pasta and pour a cup of cold water over it to stop the cooking.
Transfer the pasta back to the same pot. Drizzle with a desired amount of browned butter (depending on how many servings you've got) and toss. If you're making meat sauce, it's up to you if you want to reserve some unbuttered pasta for that half (I do). Alternatively you could simply spoon butter over the portion you desire while it's on the plate and skip this tossing step entirely.
On a serving plate, heap with half buttered pasta and half unbuttered pasta. Ladle the meat sauce over the unbuttered half. Generously sprinkle the buttered half with grated mizithra and garnish with parsley.