LARD.
Just the word alone is enough to make people cringe away and shudder with horror. Its connotations are all negative. It might be one of the few foods that I actually
feared
growing up, as if even being in its presence would clog my arteries and cause a heart attack right on the spot.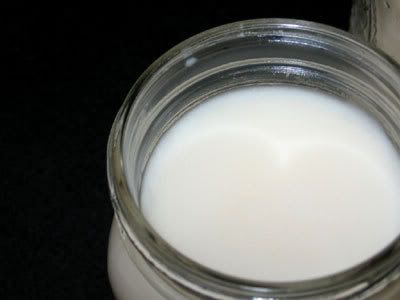 But like so many foods that have gotten a bad rap -- egg yolk comes to mind -- it turns out that tales of its detriments to people's health were largely exaggerated. Unlike other foods, including egg yolk, however, lard has never recovered from the stigma of being labeled unhealthy. To this day, even though we know more than ever about the food we consume, lard is still widely thought of as the worst thing people who care about their health could possibly eat.
It's not true
. Well, it's a little more complicated than that.
As usual, man, trying to improve upon nature, only managed to eff things up further. In its pure state,
lard has LESS saturated fat (the bad kind) and MORE unsaturated fat (the good kind) and LESS cholesterol than an equal amount of butter by weight!
Don't get me wrong; there
is
lard that's bad for you -- and that's lard that's been messed with by man. See, back before we learned that just because we
could
do something didn't mean that we
should
do it (okay, we still haven't really learned that lesson), someone thought, hey, this stuff eventually goes bad. Wouldn't it be great if we made it shelf stable, so that it wouldn't need to be refrigerated, and it could last forever? Thus the hydrogenation of lard was born. It's the lard you'll typically find at supermarkets, sitting away from the refrigerated meats. The hydrogenation process produces trans fats, which, if you didn't already know, is the evil, arch enemy of health that we all should avoid. It's what's responsible for increased risk of coronary heart disease, raising LDL (bad) cholesterol, and lowering HDL (good) cholesterol.
So yes, hydrogenated lard is every bit as bad for you as the old stories say. Good lard that has not been touched by industrial processes, however, is -- I hesitate to say
good
, as it's still fat and has the calories of fat, and I wouldn't recommend consuming it in large quantities -- not nearly as bad for you as you might think.
Well so what, you point out. Why would I want to use it?
Good question. Bakers, foodies, connoisseurs of deep-fried foods, and
food writers like Melissa Clark
already know the answer. I think Lisa of
Homesick Texan
(whose blog I enjoy muchly) puts it best: "People think that cooking with lard will make everything taste of pork, but this is not true; its flavor is neutral. What it does, however, is create incredible texture and structure. With lard, you'll fry chicken that is both moist and crisp. With lard, you'll make a tender pie crust that flakes. With lard, you'll make airy French fries that crunch. With lard, you'll cook refried beans that caress your mouth like velvet. With lard, you'll steam tamales that are soft and fluffy. And with lard, you'll bake ginger cookies that snap."
The next obvious question is, where do I get me some of this wondrous fat? Well, you have a few options.
Buy it online. The convenience here is that you can find specialty merchants who sell non-hydrogenated, rendered lard from responsibly raised hogs, which means your conscience can rest easy, and you won't have to go through the rendering process yourself.
Find a local butcher that has pork fat s/he is willing to sell or give you. During my researching online, I saw many people say that a butcher was only too happy to hand pork fat over, as it would have otherwise been thrown away. Others have gotten fresh pork fat for about $1 a pound. It's pretty rare that you would find already rendered, non-hydrogenated lard for sale at a brick and mortar, but if you find it, grab it!
Save bits of excess fat from pork cuts (fat freezes really well) and when you've got a good amount, do your rendering then.
In terms of convenience, #1 and #3 are probably the way to go. But #1 is probably much costlier than you'd prefer it to be, and #3 might take too long (a consideration if you're impatient like me). Okay, so #2 then. But warning: finding a butcher that has pork fat to sell may not be a simple matter. As has already been noted, people don't like pork fat. They want nothing to do with lard. So of course merchants typically don't carry it (plus with today's lean SuperPigs, it's kind of hard to come by anyway). If you're lucky and live in an area with butchers aplenty, or already have a butcher you frequent regularly, it might be quite easy. But my own experience was far from simple. It consisted of me calling the meager handful of butchers that even came up in a search of my area, only to be told that no, they did not have pork fat. I finally struck gold when I found Wooly Pigs, which specializes in Mangalitsa pigs from Europe. I began a short exchange with the owner, Heath ("Do you sell pig fat?" "Yup." "How much do you charge?" "$3 a pound." "See you Thursday."), and began looking forward to the day when they would be at the farmers market closest to me.
In the meanwhile, I did a little more research on Wooly Pigs, and honestly, I totally lucked out. They treat their animals humanely, which was a relief because even though I had set out with that preference, I eventually reached a point in my search for pork fat that I would have had to get whatever I could due to what was available to me. Animals at Wooly Pigs are not fed antibiotics to promote growth. The Mangalitsa is considered an "unimproved lard type" breed, instead of the "meat type" breed prevalent today that became more popular after WWII (when people stopped using as much lard and started messing around with nature with regard to breeding, drugs/hormones, etc.). Thus Mangalitsas aren't as lean as commercially bred hogs and have much more fat. And on top of that, Mangalitsa fat has more unsaturated fat than normal pig fat. All very good news to me, since I was only interested in the fat!
Once I got to the farmers market to pick up the fat, I encountered another pleasant surprise: I hadn't specifically asked (I would have taken just about anything at that point), but the fat they had reserved for me (when I marched up and asked for pork fat, the woman managing the stand asked if I was the one who had emailed Heath about it, and said that they didn't normally bring fat to the markets since people rarely ask for it) was leaf lard. Well, I was super stoked by this unexpected boon.
Okay, so up until now I have neglected to mention that there are 3 grades of pork fat. They are:
Leaf lard. The highest grade of lard, taken from the fat deposit surrounding the hog's kidneys. This lard is best saved for making pastries, which will flake like nobody's business.
Fatback. The next highest grade of lard, taken from ... you guessed it, the back of the hog. This fat is good to use for deep frying.
Caul fat. This is the lowest grade of fat for rendering into lard; it's often used in pâtés.
I was hoping for fatback, figuring that leaf lard would be in much shorter supply and more costly. In fact, I didn't even once think that I would be getting leaf lard. So I was pretty happy with my new treasure. I paid $3 a pound, which I realize is probably about the same price I'd pay for meat in a grocery store, but considering a) this was the only place I could find that even had pork fat to sell; b) the humane and natural way the meat was raised and butchered; and c) their pork cuts cost $22 a pound, I thought was a fairly reasonable price. While I was there I also picked up a pound of bacon (it cost me $19, which is insanely expensive, but heck, I wanted to try it, and I'd just learned about my promotion at work so felt I could splurge).
The roughly 5 pounds of fat I purchased had been frozen, but it was a particularly warm day, so it had thawed a bit by time I got home. I let it sit on the counter for another hour, then I went to work. It was still partially frozen, so chopping it up into small pieces was a little more work than it otherwise might have been (hopefully yours will not be frozen at all). I put some water into my trusty Dutch oven, turned the heat on low, and added the fat. After boiling on the stove for about 2 hours, the water had evaporated and the solid fat was starting to melt down. It took about 8 hours to liquefy it all. I let it cool a bit (though still in liquid form), then strained the whole thing through a cheesecloth into a large bowl, added water, and stuck it in the fridge. (I know I'll probably get scolded by other lard renderers for this, but I threw away the pile of cracklings, which are the bits of meat/skin/membrane tissue that get separated during the rendering process and are basically deep fried in the melted fat for hours. Almost every article I've read on the subject agrees: cracklings are one of the most delicious treats one can indulge in, and are a just reward for the time you just spent rendering all that lard. I tasted a few and wasn't a huge fan, though, and given how much there was, I decided to spare my waistline.) After the fat had been in the fridge for hours to solidify, I removed the slab of lard from the water, dried it, cut it into pieces, and remelted it. I poured the liquid fat into Mason jars (which I had plenty of, due to my sourdough culture trials). I ended up filling 2.25 1-quart jars, so 1 pound of fat turned into approximately 16 fluid ounces, 1 pint, or 2 cups.
The method I used to render my lard came from various online sources I'd read about the matter, primarily Homesick Texan's method as well as the method of the blogger at An Obsession with Food & Wine. All the articles I read involved "wet rendering," which uses water in the rendering process. There's also dry rendering, which is done in a pan or oven without water (kind of like frying bacon). Wet rendering produces lard that is lighter in flavor and color, and has a higher smoke point, which to me makes it superior to dry rendering.
Specifically, these are the steps I took:
Chop the fat up into small pieces. You want as much surface area as possible to be exposed, but don't go too crazy. Wasting too much time on this step isn't worth it. The author of this article, "Lard: The New Health Food?" ran his fat through a meat grinder, so that it resembled strands of ground beef, or "spaghetti on steroids." If you have a meat grinder, I'd recommend this method. I'm sure it took less time to render the fat because of it!
Add about 1/2 cup of water per pound of fat to a large, heavy pot or Dutch oven. Add the fat, then turn the heat on to low. This is very important; too much heat will make the water evaporate too quickly and you'll just end up scorching the fat.
Stir occasionally, every 15-20 minutes or so; doesn't need to be exact. At first the contents will look like a milky pot of water with bobbles of fat chunks in it. Don't worry, that will change. Depending on how much fat you're rendering, eventually the water will evaporate and the mixture will turn more of a golden color, it will be noticeably thicker, and it will resemble, well, cooking oil. With bobbles of fat in it.
Coax your dog away from the kitchen, because the smell of roasting pork is simply too irresistible for him. If your dog's favorite meat is pork, you will fail as I did. If the smell of roast pork permeating your house doesn't appeal to you, open a window before you start rendering.
Eventually, all the solid fat will be melted (and you'll see the cracklings at the bottom of the pot) or there won't be enough left to make it worthwhile to keep going.
Let the fat cool a bit. You still want it to be in liquid form, but nowhere near boiling. You have two choices at this point. You can strain it into containers and be done. Or you can take the extra step of removing any leftover protein bits by adding water to it and refrigerating it overnight. I went with the latter. Strain the fat into a large bowl, add a lot of water, no precise amount, and stick the bowl in the fridge.
After a few hours there should be a large slab of lard floating on top of the water. Remove it and dry it, then chop it into pieces and melt in a pot over low heat. Once it's all melted, ladle or pour it into containers. According to Lisa of Homesick Texan, it will keep in the fridge for about 3 months, or in the freezer for up to a year.
Use the lovely stuff you just rendered and make out-of-this-world pastries or deep fry something to perfect, delicious crispness.
So should you eat lard all the time? Of course not. It should be taken in moderation like everything else. Nor is it something you need to fear or avoid, provided it's the right kind. It's a perfectly acceptable -- perhaps even preferable in some cases -- substitute for butter. You don't eat that all the time, either. Each has its place in various culinary delights.
As for what I'm going to make first?
Raspberry fried pies
. (The recipe is for blueberry fried pies, but I much prefer raspberries, so that's what I'm going to use.)
After that, who knows? The world is my deep-fried oyster. Mmmm.
Recommended reading: